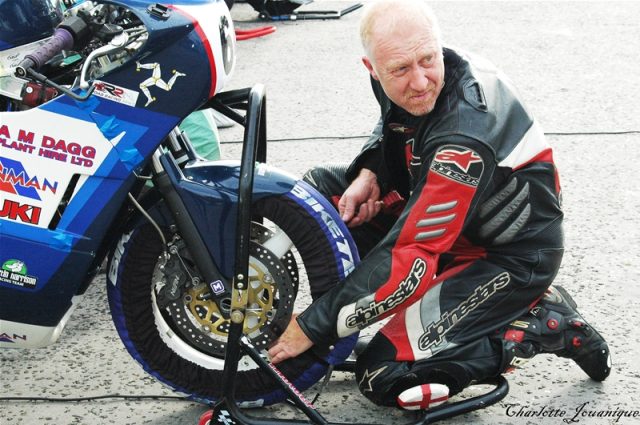 Qui es-tu ? Tu roules avec quoi ? – Who is who ?

Martin Harrison 51ans. Ma moto pour le classic est une Suzuki GSXR 1100cc de 1986 que j'ai faite moi-même afin de rouler sur les circuits locaux et sur l'île de Man. Mon autre moto est une Kawasaki ER6 de 2008, c'est une 650cc, je ne l »utilise que sur l'île de Man.
Martin Harrison 51ans. My classic bike is a 1986 Suzuki GSXR 1100cc that I built myself to race on my local sort circuit race track and IOM. My other bike is a 2008 Kawasaki ER6 supertwin that is a 650cc I only use this bike for the IOM.
Pourquoi l'île de Man? Why The Isle of Man ?
Je pense que cette île est un rêve motard quand vous êtes dans le milieu des courses, et elle vous offre la plus grosse dose d'adrénaline quand vous êtes sur ce fameux circuit de la montagne. Et l'atmosphère dans le paddock et sur l'île est unique.
I think the IOM is a bike racers dream if you are into road racing, and gives you the biggest adrenalin rush when you race on the famous mountain course, and the atmosphere around the paddock and the island is second to none.
Ta première course ? C'était sur quelle machine? You first race before the IOM? With wich bike?
Ma première course juste avant l'île de Man, a été avec ma suzuki GSXR à la Coupe Bary Sheene, sur le célèbre circuit de Scarborough (que j'ai gagné en 2013), c'est la seule course sur route ouverte à tous en Angleterre à ce jour.
My first race just before the IOM is on my suzuki GSXR 1100cc at the Bary sheene cup at the famous Olivers Mount at Scarboroughs that I won in 2013, it's the only public road race on the British main land to this day.
Comment retiens-tu le circuit? How do you remember the course of the track ?
Quand j'ai voulu concourir la première fois sur l'ïle de Man, j'ai effectué plusieurs tours en moto et en voiture durant les mois d'hiver. Je regarde également les tours embarqués des autres concurrents, cela prend 3 ans pour savoir prendre les meilleurs trajectoires. Et chacun a ses propres points de référence : comme un arbre, une maison, un mur, mais on apprend à chaque tour que l'on fait.
When I first wanted to race the mountain course I did a lots of laps on a motorcycle and car in the winters months and some onboards laps from other riders, it take about 3 years to get to know where you are going at race pace, and most parts of the course you have your own reference points: like the tree, the houses, the walls, but we are always learning every time we do a lap.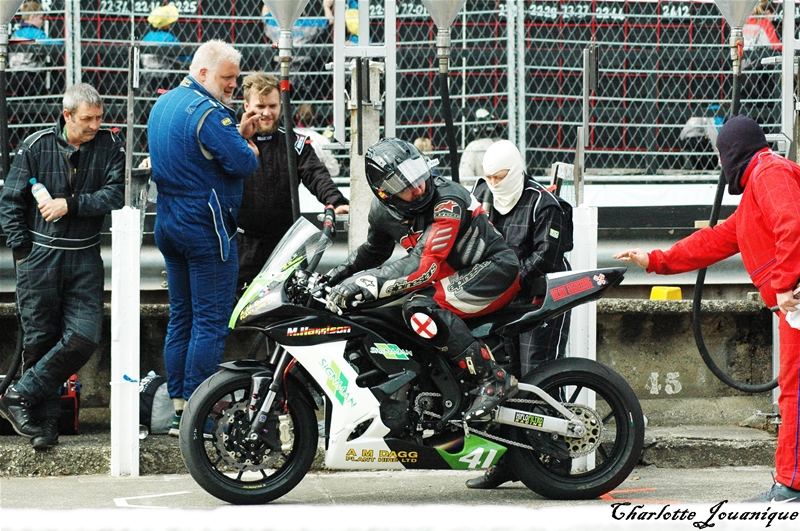 Comment te prépares-tu? Moto, mental, physique? How do you prepare your bike, your mental and your physics?
Le plus gros de la préparation de mes motos se fait durant les mois d'hiver, comme les réglages des suspensions et le moteur. En fonction de la moto que je vais piloter, j'effectue la plupart du boulot chez moi dans mon propre garage, aidé par mes amis. Au niveau de mon entraînement physique je fais du vélo et de la gym quand je peux, ce qui me permet de garder le moral, et cela à l'air de fonctionner.
Most of my preparation on my bikes are done over the winter months getting the suspension serviced, engines ready and what bike I will be riding and all the work is done at home in my workshop and help from my friends, my physical training is cycling and gym, when I can and that sort my mental side, as it seem to work.
L'impact de ta famille sur le mental ou la préparation? What help do you get from your family?
Le seul membre de ma famille qui m'aide est ma concubine Joanne, elle m'accompagne sur la plupart des courses sur route afin de m'aider et sans elle je ne pourrais pas y arriver.
The only family member that helps is my partner Joanne, she goes to most of my road races to help out and really couldn't do it without her help.
Roules-tu aussi sur circuit? Quelles sont les différences? Are you race on Circuit too?
Je ne concours pas beaucoup sur des circuits, mais j'ai le circuit de East Fortune à 4km de chez moi, ce qui est assez pratique pour moi.
I don't race as much on short circuit as I used to, but it's on my local track at east Fortune that happen to be 4 km away, so very handy for me.
Ton passage le plus impressionant? Wich is the most impressive part of the mountain course for you?
Le meilleur passage pour moi est entre Kirk Michael et Ramsey, car c'est la que nous prenons la vitesse la plus élevée.
The best part for me is from Kirk Michael to Ramsey as most of it is flatt out in top gear.
Ce qui te terrifie le plus? What scare's you the most?
Je pense que ce sont les tarifs du Ferry qui me terrifient le plus !
Think the ferry price scares me the most.
Le coût global pour aller rouler sur l'île de Man? Whats the coast to race on the island?
Le coût pour rouler sur l'île de Man dépends beaucoup du nombre de moto que l'on engage. En 2015, j'avais 3 motos et les pneus coûtent 700€ par moto, essence 750€, ferry 800€, nourriture et bières 400€ (plus ou moins), huile et filtres divers 120€, la liste évidement n'est pas exhaustive. Cette année (2016) j'ai tourné avec 2 motos ce qui m'a coûté environ 4700€.
The coast to race on the IOM depends on how many bikes I race. In 2015, I raced 3 bikes and the tyres cost L600 per bike, Fuel 650, Ferry 680, food and beer: 350 +, oil and filters: 100 +, the list goes on as you think you have everything with you but you keep buying something, but this year I run 2 bikes to keep the coast down but it's around 4000 for me.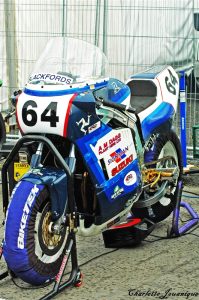 Quand survient un accident à quoi penses-tu? When there is an accident, what do you think?
Quand on voit un accident c'est comme l'effet d'une bombe et ce n'est jamais plaisant à voir, tu essaies de passer au travers, mais généralement j'essaie de ne pas y penser.
When you see an accident it's like a bomb going off and never nice to see, you fist thoughts that they are OK, but usually I try not to think about it.
Combien de personne composent ton équipe? How many people are in your team?
Habituellement j'ai 3 personnes dans mon équipe et si je suis coincé j'ai toujours quelqu'un qui pourra m'aider dans le paddock c'est une des bonnes choses du MGP (Manx Grand Prix).
I usually have 3 in my team and if I'm short there is always someone that will help in the paddock, that's the great thing about the MGP.
Entre les pilotes comment cela se passe-t-il? How do you get on between the rival pilots?
Tout se passe bien avec les autres pilotes que je rencontre, il y a une super ambiance dans la famille des courses sur route.
I get on with all the rider I meet, it's just a great atmosphere in the road racing family.
Et après l'IOM? La suite? And after the IOM, what's next?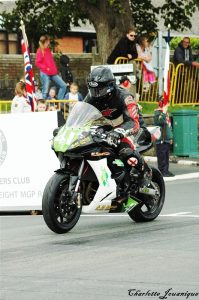 Je pense peut-être à une course en Allemagne ou en Belgique pour 2017, mais nous verrons en tant voulu!
I've been thinking of maybe doing a race in Germany or in Belgium in 2017, but will see how things plan out.
Un grand merci à Martin Harrison pour cette interview. Peut-être nous reverrons nous sur l'île de Man l' année prochaine!
Thanks a lot to Martin Harrison for this Interview. Maybe see you soon on IOM this year!